Conquer Convenience step 1: Strategy and Store Targeting
5 January 2022
Author: Kirsty Whyte
If you want to win in Convenience but can't get your strategy right, keep reading... In our last blog we introduced you to our Convenience ecosystem, designed to help brands succeed in this channel. Our step-by-step process gives you a breakdown of the areas to focus on and the action you need to take to succeed.


First, we're delving into strategy and store targeting - key factors when it comes to starting your journey in Convenience. Secure a winning strategy and unlock new opportunities along the way.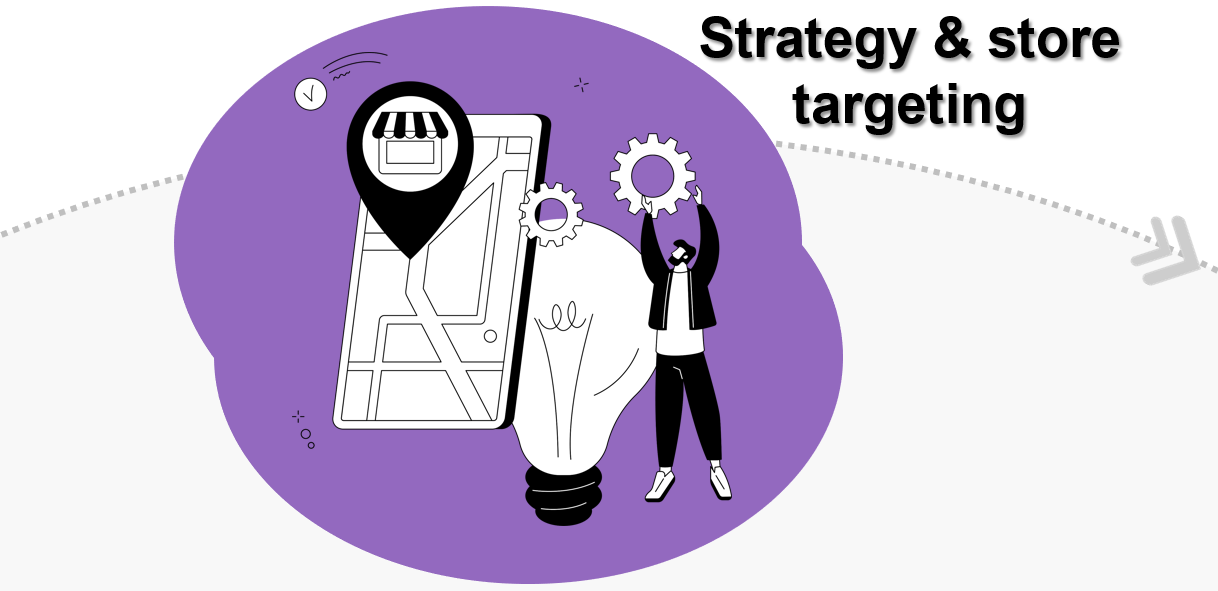 When considering how your brands operates in Convenience, the first thing you need to do is set direction. Thanks to our game-changing digital solutions, it's never been easier to make informed decisions.
Our Thumbprint EPOS analytics tool Pinpoint, offers the support you need to guide you through the sector. 'Pinpoint' opens the door to all the data you need to plan your strategy.

Let's talk strategy
In the past, data in the convenience sector was non-existent. Fast forward to 2022 and finally there's a way to get your hands on some. With Pinpoint, you'll get exclusive access to the largest and most granular EPOS data available in symbol and independent retail. Did we mention, it can be accessed all in one place and is not available anywhere else in the marketplace? Full category data is available, including competitor sales, and individual transactions to help you understand what else is bought with your brands. No longer are you in the dark when it comes to Convenience - it's the ideal time for you to navigate this growing channel.

Create a strategy that's tailored to your brand. Consider which data is most important to you and customise this to suit your goals. This allows your team to make strategic decisions from the get-go. The granular transaction level EPOS data that's available means your brand can accurately target and set strategy on: the right products, the right layout, the right geographies and the right fascias.
Big brands vs small brands

Is your brand a disrupter brand with a smaller budget? You still want to build a strategy in convenience but not sure where to begin? Our team of analysts can help make this a reality. An initial discussion with our experts will establish the hypotheses you want to solve and after analysing the data we'll come back with a curated strategy for you.

If you're a bigger brand, you may already have access to your own data platforms but are looking for a way to take your strategy to the next level. A direct data feed from Pinpoint could be the answer. Select data from either a transactional, weekly or product category level which gives you wider access to more information than ever before to use as you like.
Be seen in the right place at the right time
When it comes to store targeting, you need to focus on which geographic region you want to be a part of. Start by asking, do I want to drive distribution in a particular region or fascia within the channel? The EPOS data available will support your decision by comparing a wide dataset of stores. Narrow down which locations are most suitable for your brand. Once you have your geographic strategy pinned down and your field teams are out in stores, you can then leverage the data to track their performance. This helps to determine any regions where you are under-performing and may need to target. By flagging these points on a regular basis, you can make simple changes such as upweighting your field teams in certain areas, which helps achieve your long-term goals in the sector.

Our Thumbprint Head of Product, Andy Armer shares why the right strategy is paramount, "When considering your strategy for the Convenience sector, it's all about having better data to drive better decisions. Having access to granular EPOS data in this channel, allows a brand to build a greater confidence in what's actually happening when it comes to distribution of their products, rate of sale and the types of products that are being purchased. Historically, this has never been done before, therefore it gives brands the opportunity to get ahead of their competitors."

If you're considering your next move in the Convenience sector or would like to pinpoint a winning strategy for your brand, get in touch for a 1:1 chat.   


{{cta('32f1cb42-1051-4aa7-8b51-639272af3057')}}